Realize the potential of wireless WAN infused with the power of Meraki simplicity
Make Cellular a Reality
Cisco Meraki MG Cellular Gateways seamlessly transpose a wireless cellular signal to wired Ethernet for primary or failover connectivity.
MG is built on the industry's most trusted cloud infrastructure backed by over 10 years of experience supporting nearly half a million customers globally, including numerous deployments in excess of 20,000 locations.
Zero Touch Provisioning
Out-of-the-Box
Scales to Thousands
of Locations
Optimized for Cellular
Meticulously designed to optimize cellular signal strength, the MG Cellular Gateway can be readily positioned away from the often weak cellular conditions of the network closet to near a window or even outdoors.
Multi-surface mounting bracket




Enables installation to a wall, ceiling, pole, or tabletop

Suitable for outdoor use and harsh environments




IP67 rated: tested for dust and moisture

External antennas




MG models are available that support high-gain, directional antennas
Built to Fit In
The MG Cellular Gateway effortlessly slots into your existing infrastructure, regardless of what it may be. Pair the MG with any router downstream to deliver primary or failover cellular support.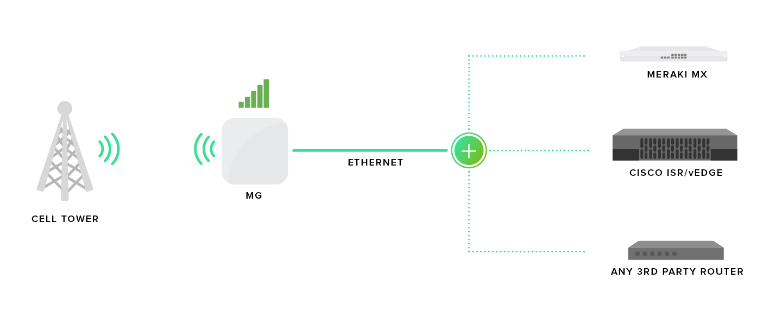 Ready for a Unified Experience
Meraki Cellular Gateways are managed from an elegant and intuitive centralized interface that extends to the entire Meraki IT portfolio. Whether you're starting your Meraki journey with MG or continuing it with adding to your existing Meraki deployment, you're investing in a proven platform that's ready to offer you unprecedented visibility and management.
In just a few clicks, navigate through your organization's cellular gateways, SD-WAN, security, wireless, switching, endpoint management, and smart security cameras.